---
BRC
---
---
Welcome to Bedford New Hampshire 03110
---
---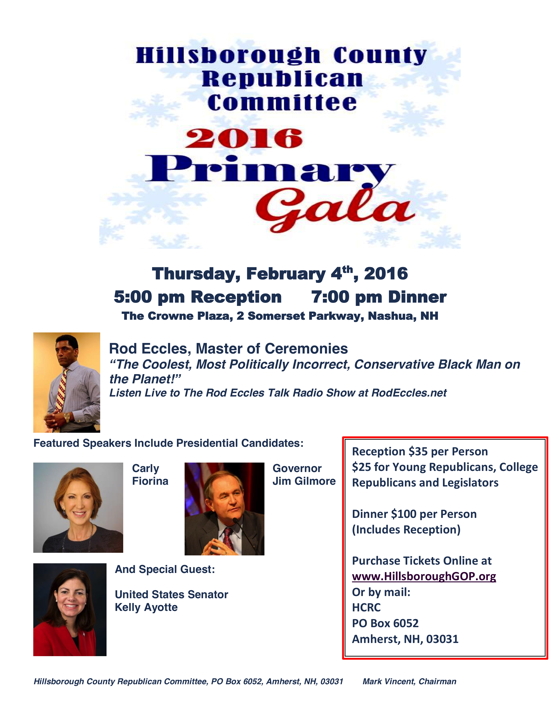 BEDFORD REPUBLICAN COMMITTEE
MEETS MARCH 8 - 2016
The Bedford Republican Committee will meet on MARCH 8, 2016 at the Bedford Public Library, downstairs, at 7:00 PM.
2016 dues ($25.00) are due and can be paid at www.bedfordrepublicans.org
Election for BRC Officers for the 2016 term will be held on that date 3/8/16
---
The Bedford Republican Committee is a private group. No recording, videotaping or live broadcast of, or from, any Bedford Republican Committee meeting or event will be permitted unless previously approved by the Chairman.
---
Upcoming Meetings/Events
---
HCRC Primary Gala - Thursday, February 4, 2016 - See website for details
Bedford GOP Meets - Tuesday, March 8, 2016 - Election of Officers.
---
Please note that our links on the right HAVE BEEN updated with the government pages and contact information for each new Rep.
---
Presidential Candidates 2016
---
Exploratory 2016
---
PLEASE PAY YOUR 2015 DUES
---
Dues for 2015 are due.
We will no longer be sending information to those who have not paid. When you sign up,
please advise the treasurer if you would like to be on the email list or phone tree.
Please send $25 to:
Ray Chadwick, Treasurer
c/o Bedford Republican Committee
PO Box 10050
Bedford NH 03110
You can also use the PayPal button in the lefthand column to make a donation or pay dues.
Know Someone Who is Not a Computer User?
If you know someone who isn't on the web who would like to join, please download and print our 2015 tri-fold brochure with membership form here: Front and Back (contains form) and Inside



Email Updates Needed!
If you are not getting our messages, you may need to update your email address.

If we do not have a workable email address for you, you will be placed on the phone list and can expect to get an automated call with our reminders. Manually calling 20 people is just not feasible time-wise, so other than the email which is the most efficient way of getting our notices, a phone message is the alternative. BRC will be identified as the caller.

You may send us a new email any time to webmaster@bedfordrepublicans.org

Latest BRC News
---
Outside Links
---
---
State

---

House - District 7
House - District 41

Senate - District 09
---
Executive Council
District 04
---
---
County Comm.
District 01
---
---
Governor
---
---
United States
---